No 'diet/food-related' theme this week.. I've gained a lot of momentum on the sorting through my possessions (for the 100-possession challenge) and have been continuing to "declutter" my stuff; sorting, organizing, reboxing, taking photos of things to sell/giveaway and uploading them to facebook groups and classified ad sites, etc. It's time-consuming but worth it..one step closer to moving to the Sunshine Coast :).As a result, I haven't really had time to update blog posts or do the diary much… so this week's diary is a little more "scaled-down" than normal.. my plan: I purchased the following ingredients (on the 2nd of April, so 3 days into this week's food diary):
1/2

Celery

$1.10
Bunch

Kale

$3
Bunch

Coriander

$1.10
1/2 Butternut Pumpkin 85c
2 x

Lemons

88c
Bunch of

Bananas

$1.50
1 x

Broccoli

58c
1 x Plum 51c
Punnet Cherry Tomatoes $2
Punnet

Strawberries

500g $2.50
2 x Granny Smith Apples 70c
1 Head Migonet (Red-Leaf) Lettuce $2
1 Bunch Muscatel

Grapes

(Black, with Seeds)
1 Bunch Crimson Grapes (Red, Seedless)
2 x

Avocados

$3
1 Fresh Coconut $2.50
10 x Chicken Tenders $10
1 x Medium Tub of Mixed Deli

Olives

$7
…and I'll just attempt to make healthy meals from the above. And take photos of each meal but upload the photos when I get to a computer. I wanted to do a juice fast this week but it will have to wait until next week as my body needs food this week.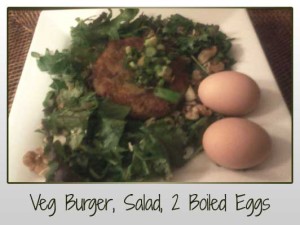 Veggie Burger, Purple & Green Baby Kale,
Silverbeet
,
Walnuts
,
Almonds
,
Sunflower Seeds
,
Pumpkin Seeds
,
Rocket
, Beet Leaves, Spring Onion, 2 Boiled Eggs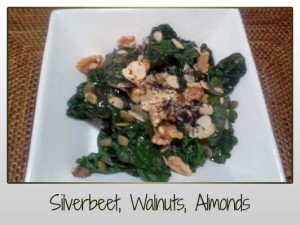 Steamed Silverbeet, Walnuts, Almonds, Pumpkin Seeds, Sunflower Seeds, Olive Oil, Coconut Oil,
Nori
Flakes, Himilayan Salt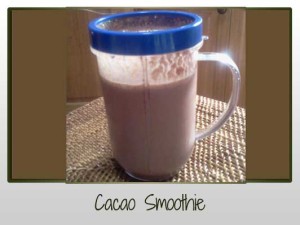 Can't remember what I had in it, but I know it wasn't too healthy.. like I think it was
Cacao
powder, Coconut Oil and Milk.. I know it was late at night when I made this.. I think this should probably be called Cacao Milkshake instead.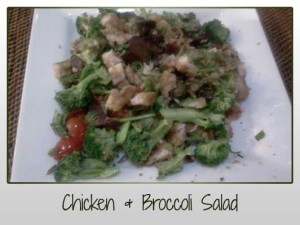 Chicken Tender, Kale, Red-leaf Lettuce, Coriander, Spring Onion, Cherry Tomatoes, Broccoli, Olives, Walnuts, Nori, Sunflower Seeds, Pumpkin Seeds,
Turmeric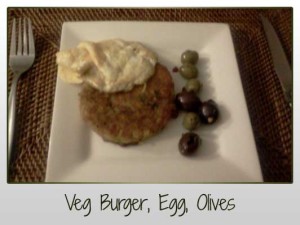 Quick meal late at night.. Veggie Burger, 1 Egg, Handful Mixed Olives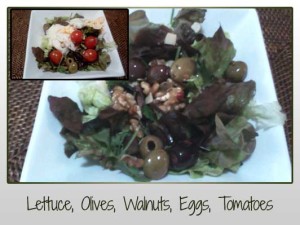 Red-leaf Lettuce, Olives, Walnuts, Olive Oil, Coriander, 2 Eggs, Cherry Tomatoes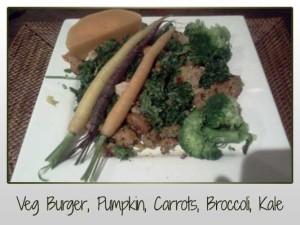 Veggie Burger, Kale, Purple/White/Orange Dutch
Carrots
, Broccoli, Butternut Pumpkin, Olive Oil, Himilayan Salt, Nutritional Yeast, Amino Acids, Turmeric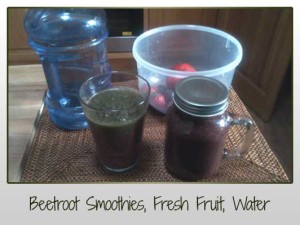 Smoothie
:
Beetroot
, Red Grapes, Black Grapes, Celery, Dutch Carrots & Leaves,
Chia
Seeds, Cacao Powder, Coconut Oil, Filtered Water,
Banana
, Strawberries, Kale
Water
: Even though it's a super-cold day, I'm going to attempt to drink all that water today in place of coffees which I've been drinking way too much of lately.
Fruit
: Plum, Strawberries, and Grapes to snack on.
At Work: Fresh Juice:
Carrot
, Apple, Celery,
Lemon
2 x Potato Cakes 1 x Medium
Latte After work: Chatting with staff member about our philosophies on life in the car park lol.. then got hungry but everything was closed.. so McDonalds it was.. don't often get a chance to speak my truth to anyone in 'real life' so that was pretty awesome to have someone who is free to speak what is going on in their minds too. So McDonalds Grilled Chicken & Aioli Wrap & Small Fries
Another work day..
Fresh Juice (Carrot, Apple, Lemon, Celery)
2 Potato Cakes
1 Medium Latte
Arrived home from work as my sister was about to pull out of driveway to go to KFC.. "coming for a drive?".. yep.. jumped in, and we had a "carpet picnic" in front of Shrek on TV. 2 Pcs KFC, 1 Large Fries, Potato & Gravy. Can't wait for my juice fast now.. hopefully can start that on Monday or Wednesday (working Tuesday so a bit hesitant to do a juice fast while working, but I'll see how I go). Working again tomorrow morning.. craving a magnesium bath but everyone is already asleep, so hopefully can get one tomorrow afternoon. Early night tonight because early morning tomorrow.. and daylight savings adjust, have no idea which way the time goes.

Another work day.
2 Bananas & Handful strawberries
Fresh Juice (Carrot, Apple, Lemon, Celery)
1 Potato Cakes
1 Medium Latte
Several Coffees (3 I think?)
1 Chicken tender, left-over Potato & Gravy & handful olives
The following two tabs change content below.
Penny (NaturalHealing.com.au)
Penny has a passion in 'accelerated learning' and a special interest in living an optimal life including health, time, business, goals, mindset and happiness. Penny is a truth-seeker, ever-questioning, ever-learning, ever-researching, ever delving further and further and deeper and deeper down the rabbit hole. This site is a legacy of sorts, a place to collect thoughts, notes, book summaries, & ideas whilst providing a searchable archive to easily lookup and reference. Learn more on the
About page
.
DISCLAIMER: The information on this website is not medical science or medical advice. I do not have any medical training aside from my own research and interest in this area. The information I publish is not intended to diagnose, treat, cure or prevent any disease, disorder, pain, injury, deformity, or physical or mental condition. I just report my own results, understanding & research.
Latest posts by Penny (NaturalHealing.com.au) (see all)