Local Currency WordPress Plugin for Business sites
Local Currency WordPress Plugin for Business sites
I'd forgotten to write about this useful WordPress plugin in the past. If you own a business site that lists any type of prices in your own currency, this plugin will automatically show the user what that price is in his/her local currency.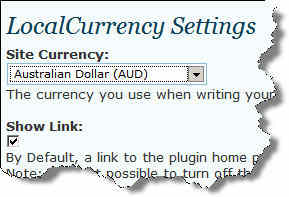 I use it on my ArabStudyAustralia.com website. For my purposes this is an extremely useful plugin – as this site is targetting students from a Middle Eastern location – but it's an Australian business talking about Australian Universities who give Australian prices. Depending on where in the Middle East (or around the world), the potential student is from, the prices that we list in AUD (Australian Dollars) will automatically show to them in their own currency in brackets after the AUD price.
i.e. AUD $18,0000 (USD $16731.00)
The plugin grabs it up-to-date data from Yahoo! Finance, and allows you to set your site's main currency from the backend (if you are in US, the default pricing will be in USD and all other countries will get their pricing in brackets after the USD amount.
Features
Determines the reader's country via IP address (using IP2C)
Obtains current exchange rate from Yahoo! Finance
Uses 'AJAX' techniques so the call to Yahoo! Finance does not affect page load times
Does not do anything if there is no currency value in the post
Allows user to change their currency via a selection box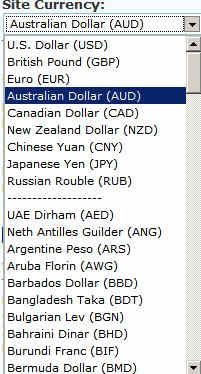 Visit Author Plugin Page to Download the Plugin
If you are not in Australia, you can demo it on this page: master-of-business-administration-study-online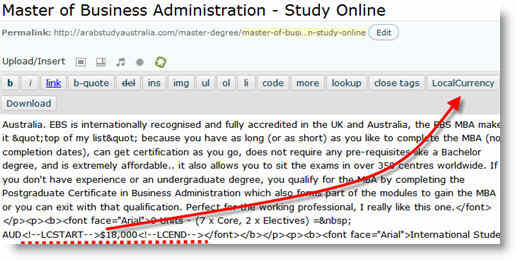 Australian visitors see: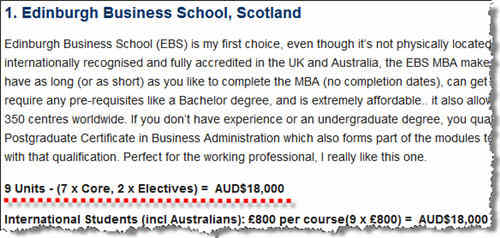 United States visitors see: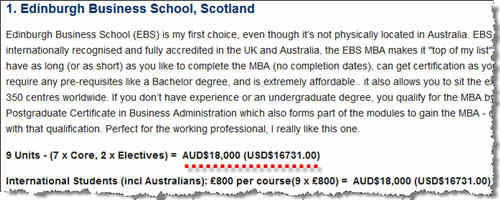 And so on…
If I could find a proxy site that allows me to view my site from every country, I'd be able to provide many more screenshots.. if you know of a non-US proxy site – please share :)
In the meantime, here are some screenshots using examples from the plugin authors page:
Chinese Yuan to Saudi Arabian Riyal (SAR)

Chinese Yuan to Japanese Yen (JPY)

Chinese Yuan to British Pound (GBP)
Chinese Yuan to Euro (EUR)

Chinese Yuan to Libyan Dinar (LYD)

Chinese Yuan to Russian Rouble (RUB)

Chinese Yuan to Mexican Peso (MXN)

And here is a list of Currency-Related WordPress Plugins that are available on the WordPress.org repository