Import Twitter & Facebook Friends into FriendFeed
FriendFeed is a great site, that lets you share and discuss interesting things and thoughts.
FriendFeed lets you post things from the internet either manually, or automatically by importing all your social networking sites and blogs, etc. And allows other FriendFeed users to comment and subscribe to your 'feed'.
The more people who subscribe to your FriendFeed, the more your posts are seen, the more visitors you get, the more you network, and so on ..
FriendFeed has an Import tool that allows you to import your Facebook, Twitter, Gmail, Yahoo!, and Hotmail users who already have FriendFeed accounts which will allow you to automaticaly subscribe to their feeds, and in turn, the users of Friendfeed will get an email saying that you are now subscribed and can choose to reciprocate (most do, or eventually use their FriendSearch tool and import you then).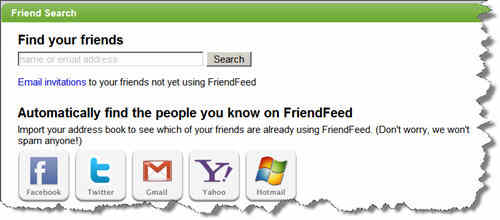 Subscribe to Facebook Friends that are already using FriendFeed: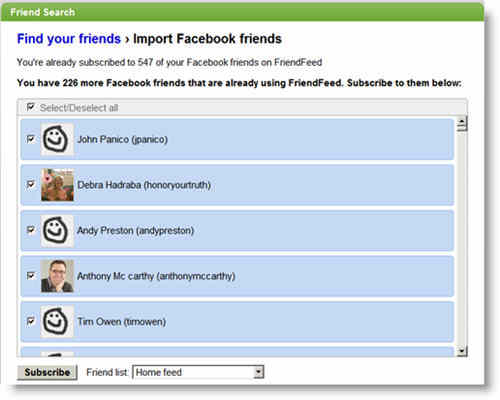 Subscribe to Twitter Friends that are already using FriendFeed: