How to add your Squidoo Lens to Technorati
Squidoo blocks Technorati and other robots from crawling Squidoo RSS feeds through their robots.txt settings.
When you try to "Claim" your Squidoo lens on Technorati, you will get this error message: Our access is explicitly blocked by your robots.txt file. Please grant access to TechnoratiBot. For more information about Robots.txt, please see http://technorati.com/robots-faq/
However, Google Feedburner allows you to get past that. And here I show you step-by-step how to do it.
Step 1.) Publish Your Lens

Your lens must be published first for this to work. So go create a lens on Squidoo, and then once it's published, come back here.
Step 2.) Find and Copy Public Lens URL

Next, go to your published page, and copy the URL. For example, I would copy http://www.squidoo.com/automaticwordpressplugins and paste it into Notepad.
Step 3.) Find RSS URL

Click on the little orange & white RSS icon at the top of your lens. A new page will popup – copy the url, as per below image.
Copy Squidoo RSS URL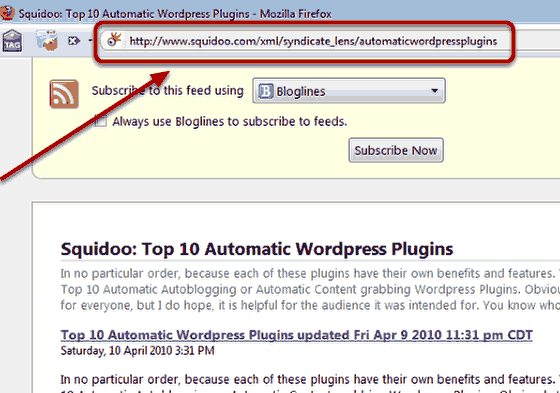 You'll need this as well for Technorati. So I will copy http://www.squidoo.com/xml/syndicate_lens/automaticwordpressplugins to my notepad.
Step 6.) Google Feedburner

Next, we need to head over to Feedburner and "Burn our Feed". So sign into http://feedburner.google.com with your gmail account and you will se the box "Burn a feed right this instant". Paste in your Squidoo RSS feed into there. So I will type in http://www.squidoo.com/xml/syndicate_lens/automaticwordpressplugins and then click on Next.
Adjust Title and Unique Feedburner URL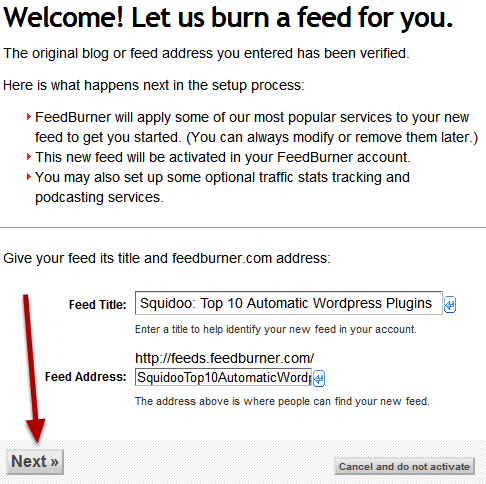 You can change the Title and Address if you like, and once you are happy, click on Next.
Copy Feedburner URL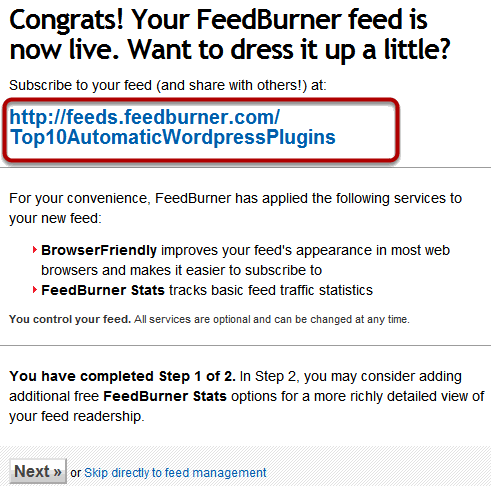 Copy your new Feedburner RSS URL into Notepad, (so in my example, I would copy http://feeds.feedburner.com/Top10AutomaticWordpressPlugins into notepad) then keep clicking Next, Next, Next.. etc.. to setup your Feed. Once you reach the page that says "Your feed is ready for the world", you are done with this section.
Notepad Check

So in my notepad, I should now have.. 1.) Squidoo Public Lens URL, 2.) Squidoo RSS URL (which we no longer need) and 3.) Google Feedburner URL.
Step 5.) Technorati

Click on Username

Scroll down to "My Claimed Blogs"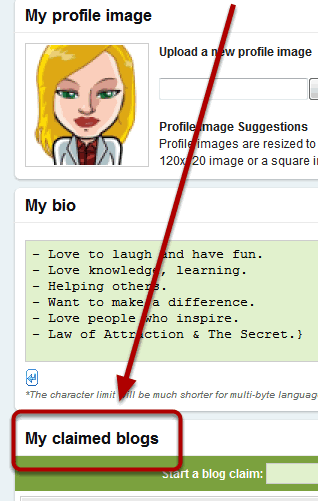 Once you see your profile, scroll down the bottom of the page, until you see MyClaimedBlogs.
Start a blog claim

Now paste in the public URL of your Squidoo Lens and then click on "Claim". For example, I will type in http://www.squidoo.com/automaticwordpressplugins
Details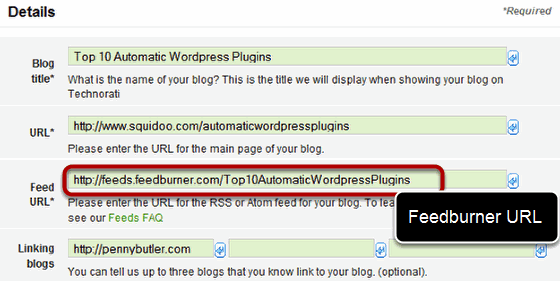 Here it is asking you for the details of your blog – in this case, the details of your Squidoo lens.
1.) Type in your title of your lens
2.) Type in your public url of your lens
3.) Type in the FEEDBURNER url of your lens
4.) And any blog that links to your lens
Add your Lens description & category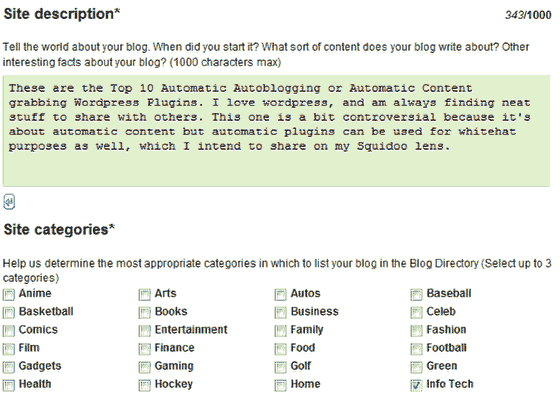 Type in your lens description (in a human-friendly way), and pick up to 3 categories for your blog "lens" to be submitted to.
Site tags
Add your site tags (keywords that match the content of your Squidoo lens), then click on Proceeed to the next step.
Blog claim status

Next, you are put in a queue. Today, Technorati are running very fast, but sometimes they can take hours/days, however today, I can just click on "Return to Profile" to go to the next step.
My claimed blogs

Scroll back down to My claimed blogs, and then click on the Check Claim button.
Technorati Claim Code

Copy the code they have written on the claim status to your Notepad file. So in my example, I will copy the code "3T5VZEFBRP29" to notepad.
Step 6.) Back to Squidoo – Edit lens

Head back to Squidoo and go back into "Edit" mode of your lens.
Edit the '1st' Module of your lens

Click on Edit to edit the first module of your lens (it must be the first, as the first paragraph is the only thing that shows up in Google's Feedburner).
Paste Technorati code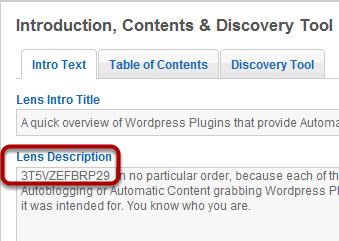 Paste the Technorati code (my example 3T5VZEFBRP29) into the start of the lens. Then click Save.
Publish Lens

Step 7.) Ping Feedburner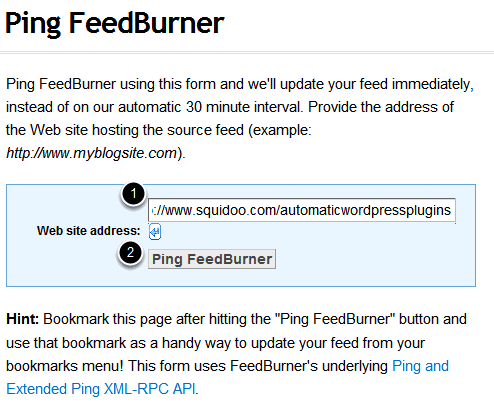 Unfortunately, re-publishing your lens is not enough to update the feed, as Feedburner checks it's feeds every 30mins. What you need to do next, is "Ping" Feedburner manually to update your lens. Head over to http://feedburner.google.com/fb/a/ping and type in your "Public" Squidoo Lens URL. For example, I would type in http://www.squidoo.com/automaticwordpressplugins and if you get an error for whatever reason, the feedburner url works too (ie: http://feeds.feedburner.com/Top10AutomaticWordpressPlugins )
Step 8.) Technorati Verify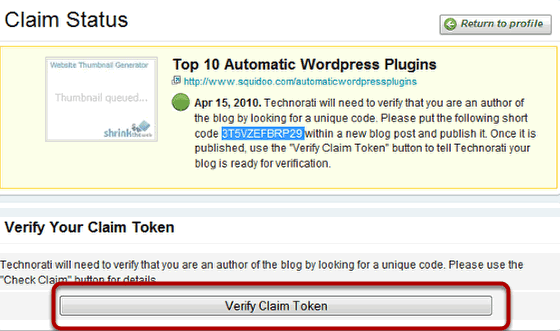 Now head back to Technorati and click on "Verify Claim Token".
Claim Status

It will report that it's evaluating your claim. In the next 10 minutes or so, you should receive an email from them saying that it's successfully crawled. You can also check this on your profile.
Successfully Crawled

Now that the lens has been successfully crawled, we can go back to our lens and remove the code.
Delete Claim Code from Lens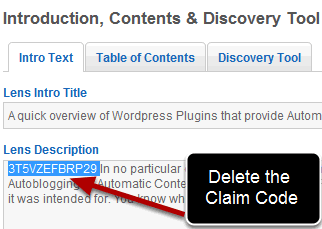 Go back to your Squidoo Lens, delete the Claim Code from your first module, save, and then click Publish again to restore your lens.
Wait for Review

Wait for Technorati to do their review. If you are successful, they will let you know via both the Profile page, and an email.
Email Subject: Technorati Claim Complete
This is an automatically-generated email.
Congratulations, your claim is now complete! Please allow 24 to 48 hours for Authority and recent posts to begin showing for your site now that it has been successfully claimed. Once they are there, we will update your site's Authority once per day.
At first you may not see your site listed in the Technorati Blog Directory for all of the categories you've selected. As you write blog posts around those topics, you should see your Topical Authority in those categories begin to rise.
Done!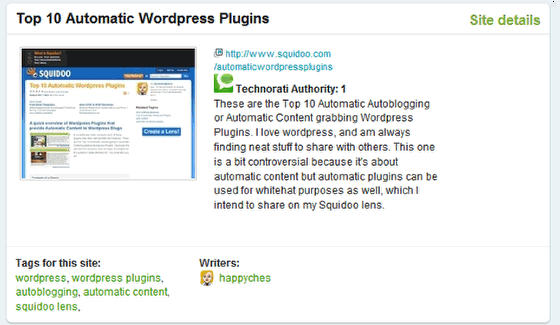 And now your Squidoo lens has some "Technorati Love". What's so good about that?
1.) Technorati allows you to find out who is linking to your blog
2.) Technorati is a blog Search Engine / Directory and is the # 1 Blog Indexing service.
3.) Technorati drives traffic to your blog (the higher your rank and authority is, the more chances of having your blog exposed in their searches)
To find out how to get higher rank and authority in Technorati, check out the following articles by people in the 'know' :)