Google has a javascript file that you can add to your 404 page so that your visitors can easily search your entire site for whatever they were expecting.
Click here to get your customized code in your language.
For me, it's English (UK) so I use the following code:
[snippet id="335″]
In WordPress, you just go to Appearance > Editor
Then click on the 404 template and paste the text wherever you want the searchbox to appear.
And it looks like this: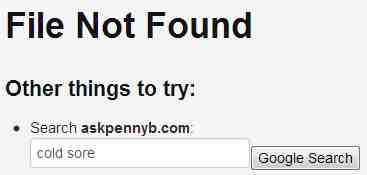 The following two tabs change content below.
Penny has a passion in 'accelerated learning' and a special interest in living an optimal life including health, time, business, goals, mindset and happiness. Penny is a truth-seeker, ever-questioning, ever-learning, ever-researching, ever delving further and further and deeper and deeper down the rabbit hole. This site is a legacy of sorts, a place to collect thoughts, notes, book summaries, whilst providing a searchable archive to easily lookup and reference. Learn more on the
About page
Latest posts by Penny (PennyButler.com) (see all)