Gigya Socialize WordPress Plugin – Facebook, Twitter, MySpace, Google, Yahoo, AOL
Gigya Socialize is a wordpress plugin that allows your visitors to connect to your blog with their friends from Facebook, Twitter, Myspace, Google, Yahoo, and AOL right from within your blog.
As well it enables you to authenticate to the blog in order to make personalized comments and gain access to the download/member areas.
Through the single Socialize API, your site can make use of the APIs enabled by several social networks. You can publish actions on the Facebook Newsfeed and enable your visitors to share articles through the Facebook notification system. On your own website, you can also display MySpace or Facebook friends along with permit your visitors to share data together. Gigya Socialize is built to protect users' privacy whilst giving website creators all the details and control they require to make their blogs sociable.
The Gigya Socialize plugin aggregates authentication and social APIs from Facebook Connect, MySpace ID, Twitter, Google, Yahoo, and AOL, offering websites to be able to:
Securely Authenticating users to your blog via Facebook, MySpace, Twitter along with other OpenID providers
Increase visitor activity on social networks by allowing users to invite friends to share articles
Comments to Facebook Profile Feed
Giving visitors the ability to invite their friends from Facebook, MySpace, Twitter, and more to your blog's community
Improve website traffic by sending visitor status updates and newsfeed events to social networks
Allows visitors to send content to their friends
Allows visitors to update their status on whichever social network they used to connect to you with
The plug-in is scalable and secure – applying standard authentication techniques to be able to prevent account spoofing and it is fully scalable. The plugin code is also GPL licensed.
Download it from WordPress.org | Read more at Gigya.com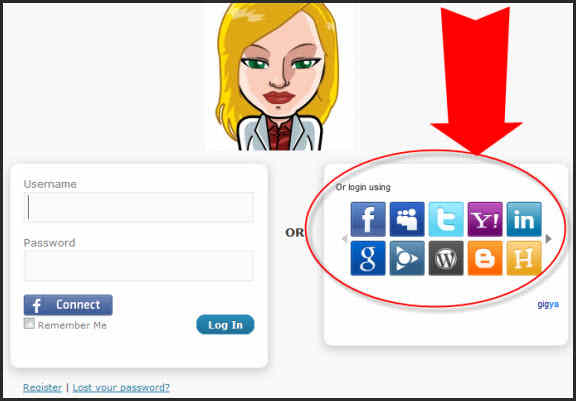 Once you've uploaded and activated the plugin, you need to go to the Gigya website and register a new account. Then, to use all the features, you need to setup API's for each of the social networks, or, if you aren't in a hurry or not technically able to do it, they will do it for you (in about 5 days). I setup 2 of them and then realized my time is more valuable and filled out the damn form:) I am still working on configuring everything, but I see Gigya as the "way of the future" for blogs, helping both the site owner and especially the visitors. Any plugins that help your visitors have a better experience and also allow your content to be spread further and wider, is a definite plus plus plus :)