Want more Followers? Twitter Directories and Groups
While "Guru's" and Popular Bloggers get followers without even trying.. the "Rest of us".. need to get a little more pro-active if we want more followers, and that means getting involved, joining Twitter directories, and following people who have the same interests as us.
The best way to get found is to put your twitter link everywhere.. your email signatures, your blogs, import your twitter feed into facebook, add a myspace widget, join twitter groups on linked in and facebook, and setup your profile in all the Twitter directories, Wiki's, and all your existing social networking sites.
This list of Twitter Directories is just a "Start". I didn't realize that creating a list would take 8 hours of my life so far lol and I really should be spending that kind of time on the sites that actually make me money despite this being so much fun :) The reason it takes so long is logging into each site and .. you know.. using them :)
I'd love to see twitter's stats to find out exactly how people found me, that would give us the best indication of which of the following "works best". But in the meantime, the more people you follow, the more who will follow you, is the general rule for the "rest of us".
If you follow people with the same interests as you, in your "niches", then they are less likely to "unfollow" you. I would never unfollow someone that is tweeting about things that are of interest to me :)  I'm not interested in law or motor vehicles.. I love wordpress and social networking and internet marketing kinda stuff.. but if you're "thing" is finding cat lovers or work-at-home mums or real estate, etc.. the best way for you to get more followers is to find people with the same interests as you and follow them. Most will follow you back, and even if they don't.. the "downside" is that you'll keep up-to-date on all the latest things related to things that matter to you. Sweet deal!
It's not just about numbers is it.. I mean, it might seem like that if your follower count is low… but if your followers are your "target" market, or are interested in the same things that you are, then you will find you make stronger friendships,  JV partners, networking partners, and potential buyers who, having followed you and realizing that you're not a scam artist and are passionate about your topic, are more likely to happily accept your recommendation for that product in your niche, or visit (& digg-stumble-friendfeed-bookmark) your blog relating to that topic.
I'll create a page for this soon and put any updated new ones in there so we can keep an updated list somewhere obvious! hehe..  if I've missed anything, please lemme know..
The Big Twitter Directories


More Twitter Directories

Groups & Group Keyword Tracking


Twitter Wiki's you can add your link to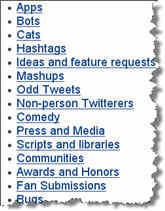 Twitter Search Engines
(or Twitter Directories you can search but can't "modify/update" with your own personal information)

Specialised Directories
Profiles you should update with your TwitterLink
Update your Profiles on all of these social networking sites with your Twitterlink.
More often than not, I put my Twitter url before my website url.
How to find Twitter people to follow using Google
Kevin Davis also put a video on YouTube to show how to use Google's Advanced Search to find Twitter users in various niches
Obviously this isn't a full list, I just couldn't justify spending anymore time on this post.. please forgive me and add your recommended site either by posting it to me via Twitter or via the comment box below.
Penny xx
http://twitter.com/happyches