EasyTweets: Manage Multiple Twitter Accounts

EasyTweets is in Beta mode at the moment, and they aren't taking on new signups, but you can request an invitation to be notified when it becomes available.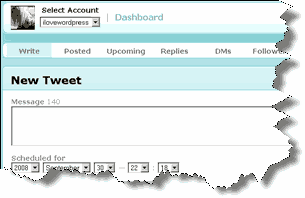 Aimed at online marketers, EasyTweets.com has designed a site to allow you to manage multiple Twitter accounts with scheduling, writing tweets (even if Twitter is down), shorter url shortenng (is.gd), allows you to see your "replies" tab (even if it's disabled on Twitter), view status of all your Twitter accounts at a glance, and have your RSS feeds auto-posted to your twitter accounts.
All for free!
If you have some business Twitter accounts – this site sounds like it's made for you :)

Now since they aren't taking on new signups at the moment.. in the meantime, don't forget TweetLater.com – a way to schedule your tweets to multiple Twitter accounts and auto-add any people who follow you and automatically.


Technorati: easytweets, tweetlater