Cure Eye Floaters Naturally (Remedies from around the Web)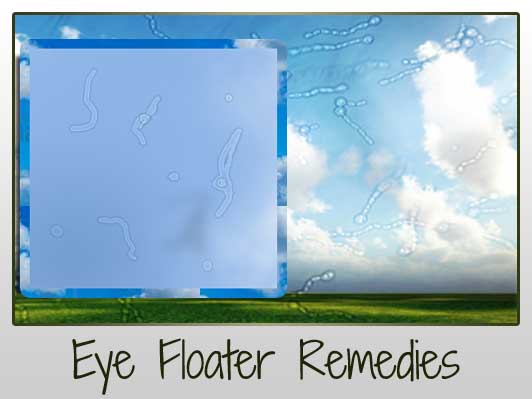 I've had eye floaters for years, I haven't been aware of them though for at least a year, but recently on a walk to the park, I noticed them again, so decided to create this post to bring it back to my conscious awareness and see what natural remedies people have used, and whether I can get rid of them, or see if they "change" at all. I am also curious as to whether they have actually just not been there and if something that I've changed in my diet has caused them to "come back" or whether they were always there, and I just didn't notice them before.
I thought they looked like parasites, and never knew that they were really little pieces of 'gel' floating around in my eye fluid, so if they really are gel, then it's less likely they have "come and gone" and more likely that they must've always been there and my focus just never noticed them for a time. But I'm still curious as to whether this fluid can be dissolved or whether they change in any way and whether they can be removed naturally. The only way to figure that out, is to first investigate & then start trying what others are suggesting :)
This page will collate my list of findings/suggestions, I'll try and debunk the rumours, and this post will be an ongoing project.
I'll also cross off things that are part of my regular diet/lifestyle – not that I believe they won't help and I care very much for total cell healing so even if it doesn't help for floaters, it probably is necessary for whole-body cell healing, but just to make it obvious that even though these specific things are a part of my daily or almost daily part of my life, I still have eye floaters.
All sources are located at the very end of this page with direct links to the content, websites have hyperlinks to original articles and books that were sourced do not.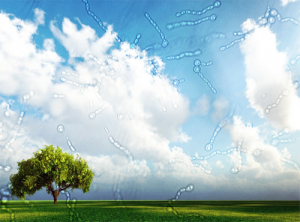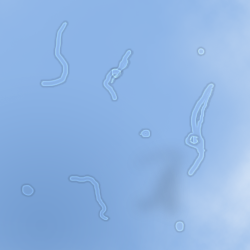 First Updated: Feb 21st, 2014
Last Updated: Feb 9th, 2015
On this page you will find:
What are Eye Floaters? | Causes | Diet | Supplements | Herbs | Eye Exercises | Lifestyle | Reflexology | Acupuncture | Other | What I'm ruling out | What I'm trying | References
What are Eye Floaters?
Floaters are little bits of matter that break off from the wall of the eyeball and float about within the eye itself. As we age, the space within the eyeball & the retina contain vitreous humor (a clear gel substance of 99% water & 1% hyaluronic acid & elements of collagen). When we are born and throughout our youth, the vitreous has a gel-like consistency. But as we age, the vitreous begins to dissolve and liquefy to create a watery centre. Little pieces of the gel break out from the surrounding vitreous humor & begin to float in the core, between your lens & retina causing them to cause shadows on your retina. Your retina sends messages to your brain about these shadows that your brain perceives as images, and these images are what you see as floaters.12
See Eye Floater Simulator @ http://anthonyantonellis.com/floaters/3
Floaters from David OReilly on Vimeo.
Causes (according to different web sources):
Diet
Supplements
Nutrients that protect nerves, reduce oxidative damage from sunlight, reduce eye pressure, prevent vision loss:40
Herbs
Eye Exercises
Lifestyle
Reduce stress, Meditation, Prayer, Pilates, Tai Chi73
Spending time in Nature76
Qigong
Get Quality Sleep77 Sleep restores the reserves of nerve force & gives an opportunity for exhausted tissues to rebuild and refresh. Palm before retiring. Darkness is important. Light interferes with restful sleep as our closed lids are not entirely light-proof. The light is stimulating & prevents absolute relaxation of the optic nerves. Complete darkness is conductive to sound sleep.78
Walking – Exercise increases delivery of nutrients to the eyes & facilitates removal of waste products.83
Reflexology

Acupuncture
Traditional Chinese Medicine (

TCM

) perceives floaters as a

manifestation

of congestion in the liver & kidneys. Acupuncture focuses on eliminating congestion, thereby clearing eyes & strengthening tissue of the retina & blood vessels of the eyes. Relaxation Techniques & Liver Herbs (like Milk Thistle).88
Toxins & Environmental Factors
Our proteins are being broken down as we speak. We are being bombarded with cosmic rays, x-rays, gamma rays, radio waves, and whatever we ate for breakfast, or drank or smoked last night. We have to say that nutritional & environmental factors do play a part in the development of vitreous floaters, just like they play a part with probably all degenerative conditions.89
What I'm Ruling Out
Supplements that I take regularly (but sporadically) that can probably be discounted as being useful for eye floaters (since if they were effective, I probably wouldn't be writing this post) are:

apple cider vinegar

,

vitamin c powder

,

olive leaf extract

,

tyrosine

, olive oil, coconut oil, balsamic vinegar, msm,

magnesium

Herbs, Spices, Nuts & Seeds that I take regularly (daily or almost daily) that I am discounting: turmeric, black pepper,

nori

flakes, flaxseed oil, hemp seeds,

chia

seeds,

quinoa

,

walnuts

,

almonds

, sunflower seeds,

pumpkin seeds

I also juice the following regularly (daily or almost daily) so these can also be discounted: carrots, green apples,

ginger

, lemon, orange, & pineapple.
The following foods are a regular (daily or almost daily) part of my diet, so these can also be discounted: baby kale, kale, flat-leaf parsley, cherry tomatoes, baby roma tomatoes, cauliflower, broccoli, blueberries, blackberries, strawberries, white seedless

grapes

,

dates

, red cabbage.
As far as lifestyle, although I'm still transforming from a misery-guts to a happy-butterfly.. currently I really love my life, most of my days are happy, I feel grateful to be alive, and love people and the wonder of the world. I go for leisurely walks a couple of times a week, I live a fairly stress-free life excepting that I do not have a 'dream job' and have some challenging people to deal with at work on occasion. I am not living where I currently want to live (location, climate & independence), but I'm living with people I love very dearly – the people I love & care about more than anything in the world. Compared to 6 months ago, my life is 'carefree'. If indeed "mindset" or "lifestyle" is any connection to eye floaters (as some of the studies will reveal), then I may notice a change after I change jobs & location. Although that is not something that I can readily test in the "now". Excepting eye-strain causes – I spend a lot of time on the computer – probably more than most people, and have been this way since I first got my computer over a decade ago, so I could probably do some eye-exercises or get some kind of protection, and possibly but unlikely spend less time in front of the screen.
What I'm trying (currently trying or about to try these…)
Korean White

Ginseng

Root capsules

Probiotics

capsules
More Spinach, Red & Green Peppers, more orange & yellow veggies, seafood, leeks, more onions, more cabbage, more watercress
Protein from the sea
More Eggs
sesame seeds
Kelp
Ginko Biloba
Research natural lysine sources
Try and find how I can incorporate "muscle" meat, sounds disgusting & hard to get?.
Research natural vitamin B12, beta-carotene lutein & zinc sources
Will be doing a liver cleanse soon, so that will incorporate Milk Thistle for about 30 days
Palming & Eye Exercises, probably will look to YouTube for some Yoga eye exercises
Sunning with eyes closed
Moving my eyes more often, and making more of an effort to not stare at the screen all day
Look into QiGong more thoroughly.. been wanting to research more into it anyway
More rebounding as I think that would be a great exercise for increasing blood circulation, and also for general health & movement of the lymphatic fluid
Research the exact locations of the foot & hand reflexology suggestions
Research "acupressure" points to focus on instead of paying for someone to stick a needle in
Improving the quality of my sleep.
Update: Feb 9th, 2015
It's been almost a year adding various things from the above lists regularly to my diet & lifestyle and I have had no improvement in my eye floaters (no worsening either). Starting to think that diet is probably not going to be the answer for curing eye floaters and rather am now going to focus my energies on the eye exercises, sunning, and "intentions".
I wrote a lot in my update today but unfortunately I lost it all, and am now not really feeling like re-writing it all, so in summary, over the past 12 months I've:
Added:
Thurs, Fri, Sat, Sun – 1-2 Fresh Carrot + Various juices (watermelon,

celery

, green apples, ginger, melon, lemon, oranges, pineapple, etc)
Daily – Green Smoothies incorporating a lot of natural supplements/vitamins/minerals, seeds, fruit & vegetables and lots of greens.
Daily – Greens
Nuts, Seeds regularly added to diet
Vitamin B12 supplement (liquid from Global Healing Center)
Daily – Turmeric, Fruits, Vegetables, Vitamin C
Sea Greens Regularly (Spirulina, Nori)
MSM regularly
With no improvement (or any noticeable degradation)