Create your own Facebook Application
The other day I found a Facebook app that I was interested in putting on my profile but unfortunately it was defunct.. broken, and I was disappointed because it would be a really great app if it worked and would attract those with the same interest as me.
So I had this brainstorm idea a few hours ago that I'd just make it myself ;)
Seeing all those crappy apps on Facebook, I thought that even a donkey with no programming knowledge like myself would be able to easily create an app, and within a few days/weeks, have hundreds/thousands of targetted traffic to my app and therefore my subscriber base, and therefore my friendsbase, etc, etc.. and they would all be into the same thing as me.. etc !
So first step.. I added the guy of the broken app as a friend and sent a message to ask him how he did it. I expected a conversation where I can maybe convince him to fix it but he just sent an app that was kinda promoting their own hosting but it did have a link to the main Facebook developers page.
I went to the page and thought that it seemed pretty easy, I clicked on Create an New Application..
And then.. went .. "What the?" lol
Callback URL? Canvas Page URL? IP Addresses of Servers? argh! help!
But now I want to create one because it's free to do, free marketing, instant promotion, instant traffic, and I can just see the potential *stars in my eyes*..
Applications have only been allowed on Facebook since June 2007 – that's 9 months – and there are already applications selling for $3 MILLION.
Click Here For Current Values Of Top 40 Facebook Applications
I think that's great, although I don't intend to make an application just to sell it, it's the access to targetted traffic that I was after.
To get a feel for the Facebook Application, and whether I'd be able to create my own app, I followed the advice of:
I've also been surfin` around trying to find step-by-step guides that I can follow and sites that I might need when I'm creating it.
I found these great resources (I'll keep adding to this as I find the gems):
Also, found these pages on ideas on types of Facebook Applications to create.
Haven't found many "tools" for helping with creating of Facebook Apps, but thought I'd create a list starting with the 1 that I did find:
I just found a guide that you have to pay for ($49.95), which I bought.
I wrote to the owner first to find out whether you have to be a "Coder" to apply his techniques, and
he said no, but I haven't quite worked out how to do anything useful with his
information yet.
#1. Step-by-Step "How-to" Video (blonde tested)
#2. Source Files Ready To Be Customized.
#3. Application Quickstart Guide
#4. App Marketing Madness Brainstorm
#5. Facebook Developer's Resource Guide
#6. LIFETIME Updates
#7. Facebook Marketing Essentials
#8. 5 Days To Make $26 Per Day With Facebook
#9. How I Got 2,012 Subscribers in 11 Days
#10. Complete Installation Support
Facebook Application Profits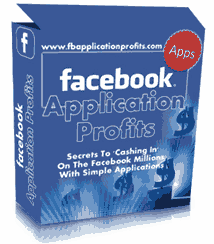 Got a great idea? Got the cash? Get someone else to make it for you!
If you're interested in creating a facebook application and have the money but not the time or skills to create your own Facebook App, these sites have programmers hungry to assist.
If it turns out "too hard" to create my app because I'd have to learn a new language or whatever, then I'll be heading over to these sites: