Raw Cauliflower Sushi Rolls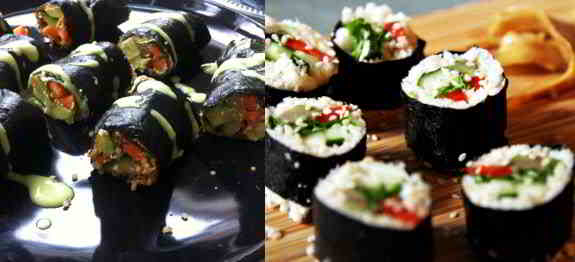 Raw Cauliflower Sushi Rolls
2013-11-21 00:41:59
Ingredients
1 Head of Cauliflower
Flavour (your choice of Olive Oil, Garlic,

Lemon

Juice, Cumin,

Sunflower Seeds

, Flatleaf Parsley, Himalayan Salt, Tumeric, Fennel Seed, Cinnamon, etc.)

Nori

Seaweed or Zucchini or Cabbage/

Kale

Leaves
Colourful ingredients (your choice

carrot

,

beetroot

, radish, spinach,

avocado

, etc.)
Dressing (your choice Soy/Tamari, Sesame, Garlic, Lime juice, etc.) or with Wasabi paste or Miso paste, etc.)
Instructions
Blend Head of Cauliflower in Food Processor until it looks like Rice
Add Flavour (such as Olive Oil, Lemon Juice, cumin, cinnamon, sunflower seeds, flatleaf parsley, himalayan salt, tumeric, fennel seed) *BLEND with Cauliflower*.
Roll in Nori Seaweed.
Add bits of carrot, beetroot, radish, spinach as you are rolling.
Drizzle with a Dressing from the dressing section (Soy/Tamari, Sesame, Garlic, Lime juice, etc.) or with Wasabi paste or Miso paste.
Notes
Instead of Nori Sheets, you can use Cabbage, Sliced Zucchini, or Kale
Instead of Cauliflower, try

Broccoli

or

Quinoa
Journey to a Better Life http://pennybutler.com/
Benefits of Main Ingredients
Cauliflower
Potent Cancer Fighter. (How does Cauliflower fight cancer? Within minutes of being eaten, sulforaphane enters the bloodstream and turbocharges the body's antioxidant defense systems. When it reaches the cells, it activates phase-2 detoxification enzymes in the liver, which then "disarm" carinogenic molecules and help remove them from the cells.)[1]
1 cup of raw cauliflower is an excellent source of vitamin K & vitamin C
good source of fibre, potassium, phosphorus, and B vitamins[2]
Loaded with folate, helps to improve cell growth and reproduction and acts as a blood & liver detoxer[3]
Nori Seaweed
One ounce of raw nori contains 11 milligrams of infection-fighting vitamin C and also delivers nearly 1,500IU of vitamin A (builds immunity, safeguard against night blindness)[4]
Of all the sea vegetables, nori is the highest in vitamins B1, B2, B6, C, and E.[5]
Of all the sea vegetables, nori is the lowest in

iodine

, however in our lifetime, we only need less than a teaspoon, but as the body doesn't store it, we still need to consume it through our foods via seafood, nori, or other sea vegetables.
Iodine is an important trace element and is needed by the body to have a healthy thyroid gland.[6]
Flat-leaf Parsley
Image Examples of other people's raw cauliflower sushi are from the following websites:
Sources/References:
---