365 Days – Random Acts of Kindness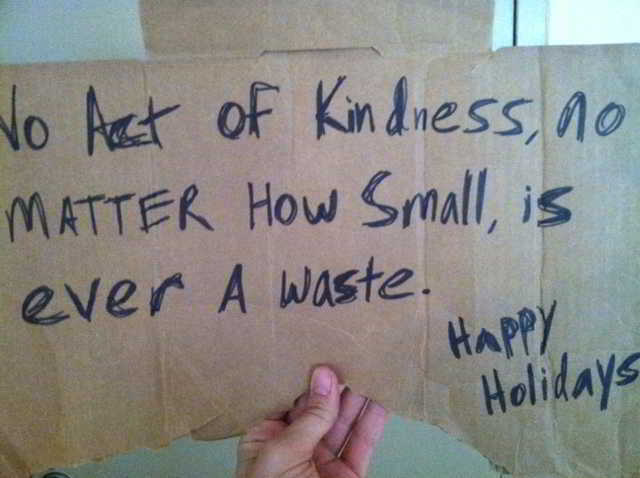 As you might know from my 21 day challenge, I've been struggling with the "Random Acts of Kindness". Today I found a blog from someone who has been consciously doing a random act of kindness everyday last year (2012).
I was moved by a lot of them and can see how I can do some of them myself. And it gives extra motivation to earn a better income to be able to contribute to help others in need as well.
Here are some random acts of kindness from his blog:
21-50
50-99
100-150
151-200
200-250
250-299
300-350
351-365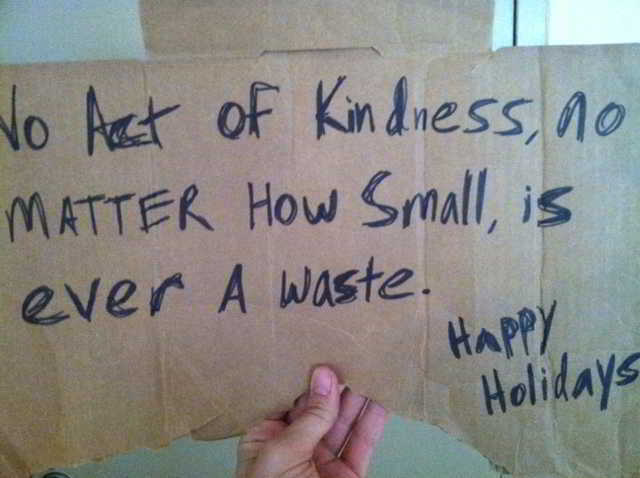 This is one of my faves:
Day 14: Delivered Care Packages to the Homeless
This morning I woke up, took a shower, ate breakfast, and brushed my teeth. Then, due to the frigid temperatures outside, I put on some warm socks and was sure to put on gloves before I went outside with my wife and daughter. It was a fairly run of the mill morning. These were things that I do every day. To be honest, these are things that I take for granted.
There are an estimated 6,000 homeless living in Chicago. Many of them are forced to sleep on the streets, even in our freezing winters, due to overcrowding at warming centers and shelters. So today for the random act of kindness, I decided do something to try and help some of them. I went to Costco and loaded up on warm socks, gloves, and handwarmers. I also decided to get some everyday accoutrements such as deodorant, tooth brushes and toothpaste. Finally, I packed them all up in a bag with some instant oatmeal and granola bars. I delivered these care packages to the homeless around my neighborhood and some adjacent areas. Each person was so grateful, but each was also very surprised by getting the care package, which kind of broke my heart. I almost lost it when I man said to me, "I was praying that something positive would happen to me. I just knew it would happen" I just can't imagine sleeping outside in this weather, and the fact that this man was able to still remain positive was incredible. This was a random act I may have to duplicate later on.
Source: http://www.366randomacts.org/2012/01/day-14-delivered-care-packages-to.html