Free 21 Day Meditation Experience (Oprah & Deepak) August 11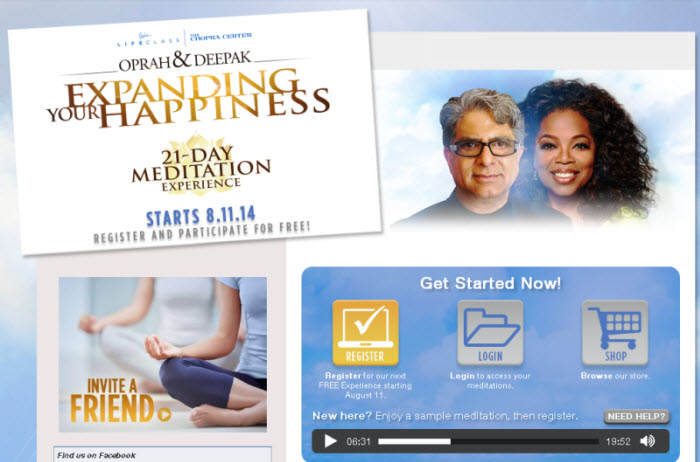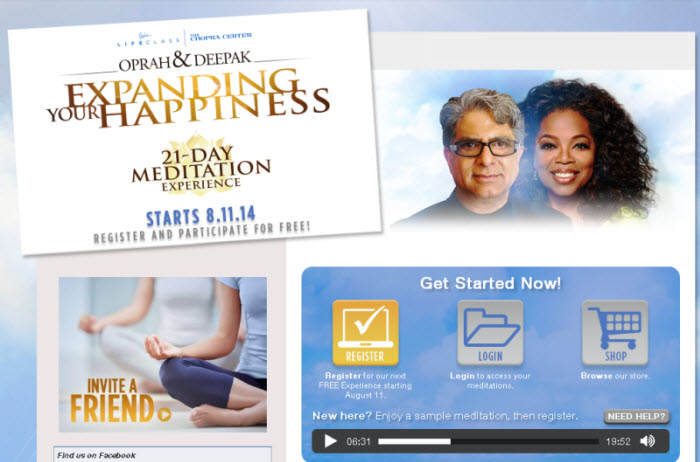 A new 21-Day Meditation Experience, Expanding Your Happiness begins on August 11th. It's free to participate in this transformative 3-week journey brought to you by Deepak Chopra & Oprah.
Week 1: Understand how Energy works (the energy within).
We'll find and awaken the powerful flow that is available to us in every moment.
we'll explore the kinds of energy we are creating (whether we know it or not) and begin to connect with the essential knowledge that we are safe in the divine energy in the order of everything.
Week 2: Harness that powerful inner energy.
We will begin to activate our flow and connect to the 7 key energy centres within each of us and use that connection to begin to build a grounded state of Peace and Possibility.
Week 3: Experience Transformation.
We will Experience flow, a powerful current that will allow joy & love, and fulfillment to come to life in you, through you, and for you.
Join the Free 21 Day "Expanding Your Happiness" Meditation Experience
Someone just shared this in a health group I'm in on Facebook and so I checked out his meditations and they really seem to be in alignment to my experience about disease & happiness… in that we can intend-ourselves well, that we can change our thoughts to affect change in our cells. My 'intention to be well & happy' has been the most dramatic change for me in the past 18 or so months and I believe that our beliefs have the power to heal us (or hurt us).
I just listened to the sample from his 'perfect health' 21 day meditation series that they must've held in some time in the past. This is the sample audio that I transcribed:
There exists in every person, a place that is free from disease, that never feels pain, that is ageless and never dies. When we journey to this place, limitations we commonly accept, simply cease to exist – they're not even a possibility. This is the place called perfect health. Stepping into this realm, no matter how brief these visits may be, can be bring profound transformation and healing.
In this state of true mind, body, spirit connection, all previous assumptions about ordinary existence disappear and we experience, a higher, truly ideal reality.
Sometimes our health is less than perfect, but we need to understand that's not a permanent state, it's only a snapshot.
Think for a moment about a photo you've taken, perhaps on the beach. In the picture, there are particular elements arranged in a particular way; waves crashing at high tide, birds gliding through the air, a couple strolling side-by-side along the water's edge. If you were to go back to the next day, or even within the next hour, the scene would be completely different. It's the same for our bodies. Each moment is different from the last.
So while we can believe the diagnosis, we needn't believe the prognosis. We are the controllers of our own physiology and we can take steps to restore our health and vitality. We can train the brain to think in new ways and choose nourishing habits that will help us connect with perfect health more frequently in our lives. The brain stores our beliefs and retrieves them as thoughts and can cause us to experience negative feelings.
To shift such views, we must invite our minds to be our allies. As we do this, we'll become more open to break-through thinking, raising our expectations higher than we ever thought possible and finding creative solutions to make what we envision come true.Perfect Health 21-Day Meditation Challenge
We've learned from neuroscience that specific brain regions, take on the functions of different areas of life. There are areas for the 5 senses or emotions or for basic needs like hunger and sleep. Meditation directly affects these centres. Which is why the most recent research indicates that within a few minutes of a person's first meditation, physical changes begin to appear, such as heart-rate, blood-pressure, and hormone levels. Each day on this journey, we will use meditation, to awaken a different aspect of the self, corresponding to a specific brainwave response.
We use meditation to find our flow in life. There is deep, quiet energy within, and when you unleash it, it will begin to shape your intentions, shape your thoughts, and especially your actions.
You can also listen to a free grounding meditation by Deepak on the registration page (starts at about the 6 min mark as per screenshot at the beginning of this article)
The meditation is designed to awaken the flow of security, the place inside you that knows only safety, peace and a sense of grounding. Everyone has the basic need to feel safe. Without it, life feels insecure and stress magnifies that insecurity. We also have a call of stability inside, that we can return to throughout the ups and downs of everyday life. Once you experience this safe place inside, you have found the flow of security – the core of yourself that isn't shaken by outer events. Centred in this place, you can access a sense of safety and security, even when you are having a bad day or facing a personal challenge.
Join the Meditation Experience