11 Firefox addons for Twitter
Yoono – Socialize your browser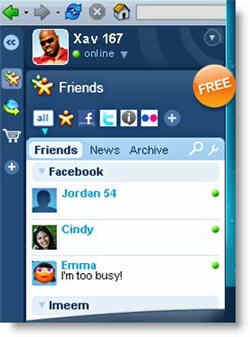 Bring all your friends into your browser with Yoono and follow what they're doing on Facebook, MySpace, Flickr, Twitter, iMeem and Friendfeed. Gather all your MSN, Gtalk, Yahoo and AIM chats into one place. Share your shopping discoveries on Facebook, Twitter and StumbleUpon.
In a single browser sidebar, Yoono users can interact with the best of the Web more than ever before by discovering, communicating, and sharing with friends across multiple networks and platforms all in one place. Users can stop wasting time checking for updates and visiting multiple networks and instead can start enjoying!
With Yoono, users can:

Connect
• Gather all of your social networks in one place including Facebook, MySpace, Twitter, Flickr, FriendFeed, Youtube, and more.
• Bring together all of your chat networks including AIM, GTalk, MSN, and Yahoo
• Universally update you profile status.
• Search and prioritize friends and their updates.
• Instant message and chat with friends in any network.

Share
• Drag and drop photos and videos from any site including YouTube and share live with friends.
• Upload pictures to Flickr via Yoono.
• Create and save a file around photos and videos and share with friends or post to a blog.

TwitterFox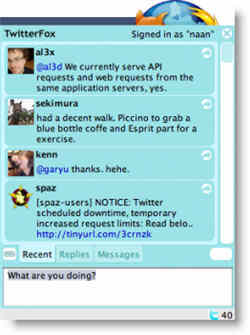 This extension adds twitter to your Firefox Browser window.
It adds a tiny icon on the status bar that notifies you when your friends tweet and has a small text field that allows you to update your status (& has a handy little character counter).

Power Twitter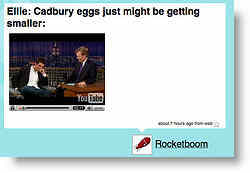 Power Twitter adds features to the Twitter Web interface to include:
Photo sharing with embedded flickr photos
Video sharing with embedded youtube videos
Shared tinyurls are unwound so you know where they link to
All links are mapped to their web page titles
Additional user information is mapped to twitter users thanks to data conduits via 30 Boxes (e.g. flickr accounts, blog posts, del.icio.us links, and tons of other social media!)

StockTwits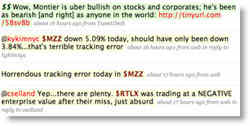 StockTwits is a website that allows you to search real time discussions from the web's savviest investors.
If you are a StockTwits user or invest in Stocks, you might want to add this addon to your arsenal. StockTwits turns StockTwits tagged tickers on twitter.com into links back to stocktwits.com so you can easily catch up with the latest conversations. (lol, now that was a tongue-twister)..

Twitzer – Twitter More
Want to share that recipe you are making, or the "full instructions" for something you are talking about on Twitter? This extension is your answer..
Twitzer is a Firefox extension which lets you post text longer than 140 characters on Twitter.com. It can also convert TinyURL.com links to actual links so that you are sure what link will open.

Once installed, when you log on to the Twitter site, you would type normally (ignore the character count when it goes into minus and turns red).

Once finished with the update, right click anywhere on the page and click "Twitzer text".

The entire text is shortened to <140 characters and the link to the entire text is placed in the update box.

ShortText is a service that allows you to post anything (recipes, long posts, instructions, etc, without needing a blog.. and this addon works in conjunction with that service so that you can share more on Twitter).

QuickPaste (TinyPaste)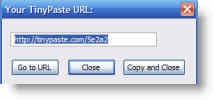 Similar to Twitzer (above), in that it allows you to have an unlimited amount of text, but it works a bit differently than Twitzer in that.. if you find something on the web that you want to post.. you simply highlight it, right-click to select it, and then choose "TinyPaste Selected Text".

TinyPaste then automatically presents you with a link to share your text with other users.

TwitterBar

TwitterBar allows you to post to Twitter from Firefox's address bar.
It also has an icon that will send a tweet with the URL of the webpage you are currently viewing.

TwitBin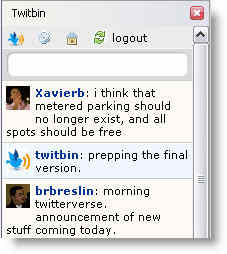 Creates a sidebar on your firefox browser to allow you to communicate with twitter.com.
Send and receive twitter messages from anywhere on the web.

TwitKit

Another Twitter sidebar addon is TwitKit.
TwitKit has a 6-section interface, using tabs to separate content. You can view the Twitter public timeline, your user timeline, a list of your friends and their latest tweets, a list of your followers and their latest tweets, @replies made to you, and stats about your account.

Many different color schemes and settings are available for configuration, to suit any preference of appearance.

TwittyTunes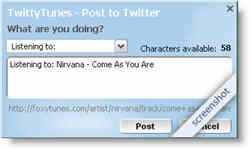 Allows to post your currently playing songs to Twitter with a click.

It will also post the websites you're visiting, and videos you're watching.

You "choose" what it posts, it doesn't do it automatically (how annoying would that be?)

To submit what you are currently "playing", the addon requires FoxyTunes.

And one more that is sort of different than the rest..
Feedly RSS News Reader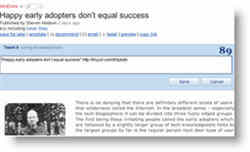 Feedly is a customized start page for Firefox where you can pull in all the data that you are interested in, and when you turn startup your browser, there `tis.
This addon allows you to easily integrate Twitter and Google Reader.
Search for more Firefox Addons @ the Official Firefox Addons site
There are about 20 more Twitter Addons in the Experimental section if you're game :)
Some of them look quite cool! .. But that sounds like an idea for another post..:)
What's your fave Twitter-related Firefox plugin?